Hey everybody,
It seems to have been a while! Real life has, sadly, been intruding once more, as we count down the weeks until the birth of my second-born, and with just 5 weeks to go, I suppose it's inevitable that I won't have the time to do as much on the blog here! For the last couple of weeks, though, I've been looking at my Adepta Sororitas army, the Sisters of Battle that I was initially very excited about getting my hands on, only to then flounder a bit with my search for a colour scheme. I've gone from wanting something like the Deathwing colours, to a traditional Order of the Sacred Rose, to now coming up with something that is pretty much entirely my own. I'm not turning into one of these folks who comes up with the lore for them, though – they're definitely being played as Order of the Sacred Rose (unless the 9th Edition Codex changes my ideas!) but I wanted a colour scheme that I could replicate across a lot of models without much fuss.
I mean, what kind of masochist wants to paint an all-white army?!
The scheme that I've chosen is a pale blue, with all-grey robes and then red gun casings. I'd initially attempted green casings, but I think the red is definitely a better spot-colour for these guys. They're still very much a work in progress for the time being, but I am finally enjoying myself working on them – much more than I was in the past!
For the time being, I'm still working towards the list that I'd outlined back when I set out my hobby goals for 2021, though I really think it could be time for a change, especially when the second wave of new releases comes out this summer! For those of you who didn't click the link, though, this was my first attempt at building a Sisters army:
There is a lot here that I'm probably going to change. In particular, I think I may swap out the Immolator for the new Castigator, as I do love that model. While I have both Celestians and Dominions in this list, I've actually been at work building the Retributor box, after having built up a solitary heavy bolter girl before leaving the rest of the box. Eventually, of course, my plan is to have the core of the army made up from the contents of the launch box from back in the day, as I think the combination of Battle Sisters and Seraphim is just a glorious one!
The Rules
Lately, though, I've also been spending some time trying to figure out the army rules. I'd say the 8th edition ruleset from their Codex was fairly baffling to me, when I first picked it up, due to the fact that it feels very much like 7th edition and the need for a separate rules glossary to make sense of it all. This blog will form the first of a two-part look at the army rules, as I try to get to grips with everything that is available to the Sisters.
There are three rules that almost all Adepta Sororitas units from the army have access to, which are referenced elsewhere in the book: Acts of Faith, Shield of Faith, and Sacred Rites. Acts of Faith in particular is quite the lynchpin of a lot of the force, and it has a lot of influence on other stuff like warlord traits and stratagems.
Acts of Faith is a mechanic that uses Miracle Dice, of which you gain one at the start of each battle round. In addition, there are four other ways to gain Miracle Dice at the end of a phase – one of your units destroys an enemy unit; a CHARACTER unit from your army is destroyed; a psychic power is resisted by a unit from your army, and rolling an unmodified 1 for a Morale test. Splendid!
Miracle Dice form a pool that lasts until they are used – when you gain one, you roll a D6 and its result is the value of that dice. When you come to perform an Act of Faith, rather than rolling a dice you instead substitute it for one of your Miracle Dice, so it's like you're pre-selecting your dice results. You can do this for Advance rolls, Charge rolls, Deny the Witch tests, Hit rolls, Wound rolls, Saving throws, Damage rolls, or Morale tests. Importantly, if you perform an Act of Faith on a Deny the Witch test, for example, you wouldn't then gain a Miracle Dice if the psychic power was successfully resisted. Also importantly, if you then re-roll the dice, you do not re-roll the Miracle Dice used for your Act of Faith; so it's important to differentiate which dice are which.
You can only perform one Act of Faith in each phase – so you couldn't substitute Miracle Dice in for the hit, wound and damage rolls in a single shooting phase, for instance. However, there are a bevy of rules that do interact with this stuff, such as the Simulacrum (standard-bearer) model in a unit allowing you to perform an Act of Faith even if you've already done so in that phase. Several units come with Incensor Cherubs, which allow you to gain one Miracle Dice but roll 2D6 and choose which one you want. My chosen Order, the Order of the Sacred Rose, as the ability to regain Miracle Dice on a 5+ once a unit has performed an Act of Faith. It's quite the integral mechanic for the army, and it had been bothering me that I had been getting a bit confused by how it works until I recently sat down and properly drilled down into the Codex at last!
This is massively different from the last rendition of the rule, which was a bit like a suite of Psychic Powers, where there were different Acts with different effects, and you had to roll a dice to see if it goes off. You could attempt to perform these Acts by spending "Faith points", the number of which was based on the number of units in the army.
Shield of Faith is a rule that grants a 6+ invuln save, but also turns each unit with the ability into an anti-psyker unit, allowing them to take Deny the Witch tests. They only roll a single D6, though, rather than 2D6, so if an enemy psyker rolled 6+ on their psychic power roll, it's not going to do anything. However, the Battle Sisters have got undying faith in the Emperor, so they aren't so easy to overcome! There is a stratagem that allows the unit to resist the psychic power on a 4+, regardless.
Sacred Rites is an additional army-wide rule that grants one of six effects for the whole battle. At the start of the battle, you can either choose one or roll 2D6 for two random ones, and they're in effect until the end. There is a stratagem for 1CP to change the rite, as well, giving some control over it. Similar to the Space Marines combat doctrines (although it makes me think most of the Grey Knight Tides).
The effects of these Sacred Rites are not particularly overwhelming, but can be extremely useful based on the type of army that you're running. One allows you to add 1 to advance and charge rolls; one grants an auto-hit for a melee weapon on an unmodified roll of 6, etc. Interestingly, though, it's the "Aegis of the Emperor" effect that has my attention: add 3 to Deny the Witch test rolls. So Shield of Faith will now only be useless if the psychic test roll was 9+. And they still have the stratagem to fall back on.
As an interesting aside, the Sacred Rites are based largely on the older Acts of Faith from earlier editions.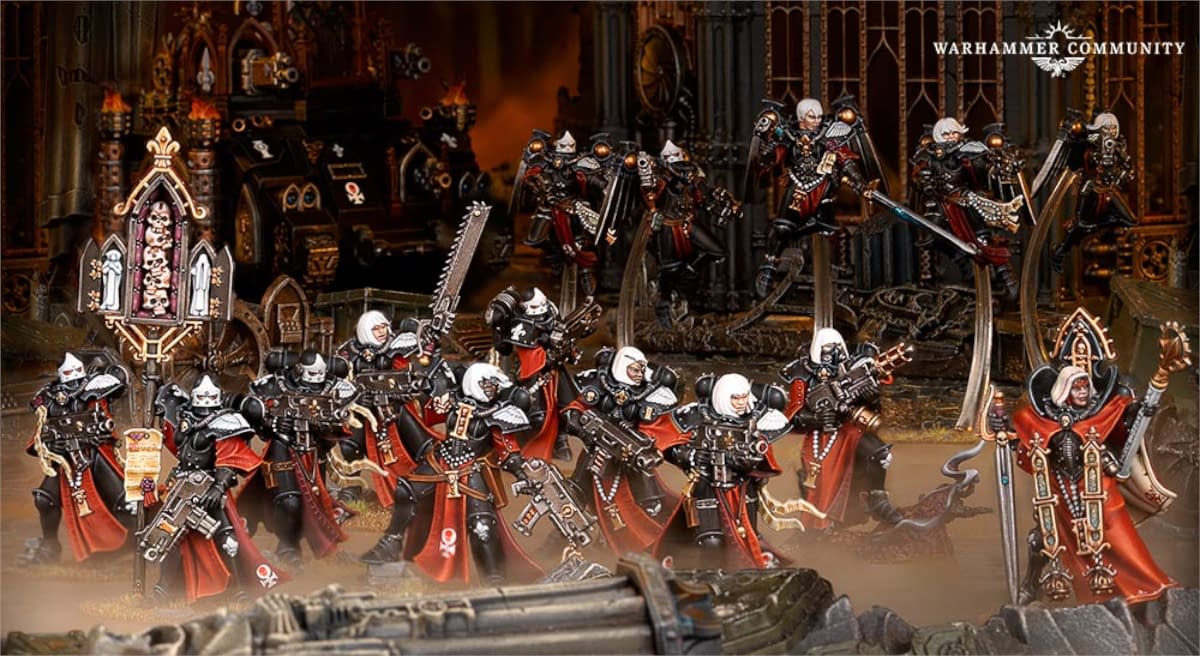 I imagine a Sisters army to be quite the thing to behold, when it is working in perfect sync. They have access to a lot of firepower, and although the models are only S3, they have enough tricks up their voluminous sleeves that they shouldn't be wiped off the table without a fight.
Of course, the Codex does feel a little bit like two books in one, because there are a number of Adeptus Ministorum units folded in that feel a little bit like they're an afterthought. When the range was re-done in plastic, these hangars-on were, for the most part, left. So Death Cult Assassins, Crusaders, Missionaries and Preachers are all still in metal, sadly. Of course, Blackstone Fortress gave us a plastic Preacher and Crusader, and Rogue Trader gave us a plastic Death Cult Assassin, but it is a shame that they've been left out, to some extent.
The only non-Sisters plastic re-make was the Arco-Flagellants box, which has the Adeptus Ministorum keyword, but can still be included in a Sisters army thanks to having the Ecclesiarchy Battle Conclave keyword, one of which units can be included without losing the Order Conviction for your overall army. It feels a bit like they should either have also re-done these oddball units, or maybe just forgotten about them entirely?
Anyway, I should probably stop rambling now, and go paint some more Sisters! Make sure to come back later in the week for part two though, when I continue to delve into the Codex and look at how I can start to build out my army. I'll also try to bring further updates to my painting adventures as I get further along with the army, so stay tuned!!