I finished reading Galaxy's Edge: Black Spire last night, in what was possibly a record for me right now, as I'd managed to read a novel in less than a week! If I'm honest, I wasn't entirely enjoying this book, but I knew I wanted to have it finished in time for Easter.
The book is almost a sequel to Phasma, as the central character is once more the Resistance spy Vi Moradi. Working on General Leia's instructions, she heads out to the remote world of Batuu shortly after the Battle of Crait, in an effort to establish a base and recruitment ground there. As a partner, she is given her erstwhile nemesis from the earlier novel, Captain Cardinal, now having begun his rehabilitation and going by his given name, Archex.
The duo crash-lands on the planet, and have their supplies stolen by the local gangster's thugs, and so Vi gets herself a job at the local scrapyard, sorting junk, in an effort to earn enough money to buy it all back. The first part of the novel is really quite schmaltzy, as everything goes well for her, and all of the locals are either positive or, at worst, indifferent to her. We get to see the locals at Black Spire Outpost, and tour the local sights in a manner
that underlines how the book basically ties into the experience at the Disney Resorts in Anaheim and Orlando.
However, the First Order is tipped off to her presence on the planet, and send Lieutenant Wulfgar Kath down to capture her. Vi's efforts to recruit the locals to the Resistance do not go down too well at first, but over time, as the oppression of the First Order makes itself known, the tide begins to turn. While the Outpost never formally comes out in open support of the Resistance, they are nevertheless able to establish their base in some ancient ruins, and some of the local farmers begin to drift in as part-time recruits, at least.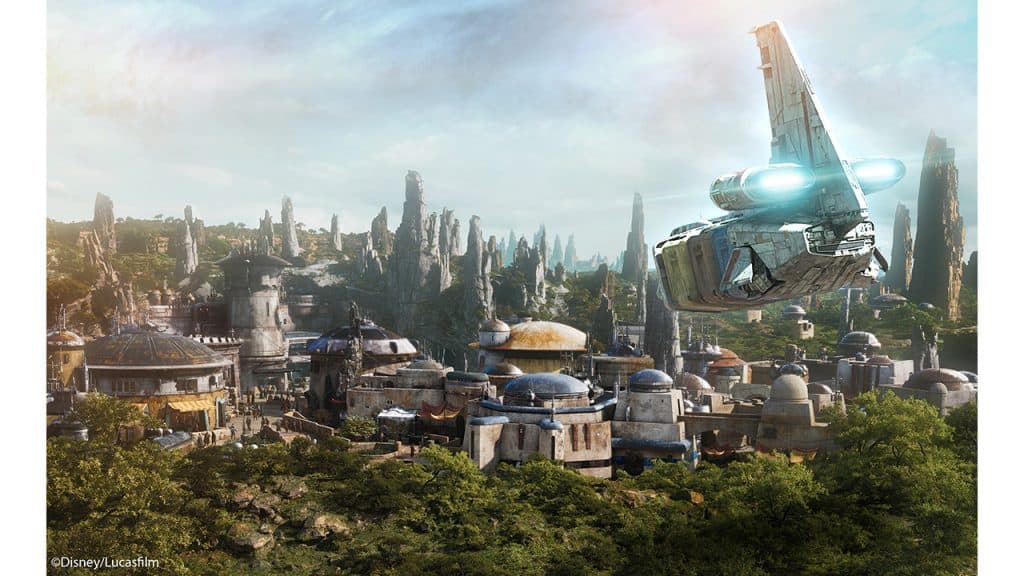 As I said at the beginning, I didn't really enjoy this book. Don't get me wrong, I enjoyed it an awful lot more than Phasma, but I felt like the fact everything just went so well for Vi made it feel like it was pitched at a younger age range, as condescending as that might sound. I was trying to get this point across when I discussed it with the other half; Star Wars rarely has things going right for people, and so I've come to expect there to be some conflict, and a lot of stumbles and road blocks. However, once we've dealt with the crash, Vi meets some really helpful locals, who are almost sickeningly altruistic, and my preconceptions about what Star Wars is led me to expect a pay-off that never came. Once I was over that initial reaction (well, it took me to get to roughly the middle of the book before I could get to that stage!) I don't think I disliked the book as much – it read so much better as a young-adult novel than a more adult novel, if that makes sense.
Along similar lines, this book also suffers from quite a lot of "movies-only" syndrome, whereby a lot of the references only refer back to the movies, often inappropriately. For instance, the Outpost cantina serves a bewildering variety of drinks, a couple of which have really bizarre names: the Fuzzy Tauntaun and Dagobah Slug Slinger spring to mind here. Sure, they're fun and no doubt they're sold in the theme park, but within the context of the universe, Dagobah is supposed to be a planet only a select few people know about, while Hoth is so far off the beaten track that Tauntauns may well have no meaning to the wider galactic public. It's such a nitpicky point, I'm almost abashed at bringing it up, but it's something that I always find myself railing against when I'm reading, because it goes against that suspension of disbelief.
My only other gripe with this book, then, was the way that the First Order is portrayed – but I don't think that was anything to do with the author, so much as the way the organization has appeared since 2015's The Force Awakens. We still don't have any real substance for them as a group – they're there as the antagonist, and there are hundreds of tiny little moments of playground-style bullyings and venalities, but there doesn't seem to be a purpose to them other than being a group for our intrepid band of heroes to go up against. Sure, back in 1977, all we knew about the Empire was that they were the bad guys, but Tarkin's talk of the Imperial Senate gave them a gravitas – we knew that the Empire was the established government, albeit a tyrannical regime that needed to be fought against. We're now well into the sequel universe but we've still not seen anything beyond the shady "there was once an Empire, they retreated into the Unknown Regions, then the First Order appeared, but it was really Palpatine's ploy all along". It's a problem that I've whinged about before, of course, but I feel like we now desperately need more of those gaps filling between Return of the Jedi and The Force Awakens. We need to see more of what went on in the Unknown Regions; we need to find out what those secret storehouses on Jakku were all about, and we need to get more info about the New Republic, and how that all fits together. The Hosnian incident, referred to a couple of times in the book, lacks a lot of punch, I think, due to the fact we don't know enough about that side of the galaxy.
But as I say, that's a problem with Star Wars in general right now, and not specifically with this book!
Black Spire Outpost has obviously changed since I last checked in there, during the new Thrawn trilogy, and seems to be thriving as a result. There are several interesting mentions, including Hondo Ohnaka apparently taking up residence there, but also the scrap merchant that Vi works for, Savi, who is said to be a friend of Lor San Tekka, and his workers all seem to have some affiliation, however loose, with the Church of the Force idea. I'd like to see that explored more, and get some real meat on those bones! Vi finds a couple of items amid the junk that seem to be really potent Jedi artifacts (is one of them a holocron?) that makes me wonder where Savi is getting his junk from.
The novel ends with the First Order arriving in force at Batuu, with none other than Kylo Ren in orbit in a Star Destroyer. Now, I feel like this is very strongly setting up a sequel, though I believe it's also tied quite strongly to the theme park experience, so maybe there's something there that I'm missing. However, combined with the stuff about Savi, I feel like there's more story left to be told. Despite not being the biggest fan of the book, I'd still like to see if there is more that we can expect to see here!