Hey everybody!
Remember this post from last year, when I started with my plans for a Grey Knight army? Well, surprisingly, I haven't managed to get very far with them over the last twelve months but, as it is clearly that time of year again, I'm now poring over the codex, and planning once more to get round to the massed psykers of Chapter 666!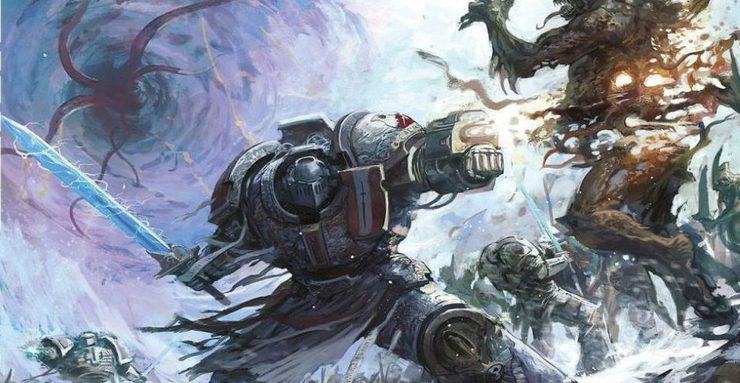 Almost a year to the day (it was a year yesterday), I'm once more planning how to bring this army to the tabletop. Since I wrote up the original blog, I've not really done a great deal of work on them, truth be told. It was always my intention to build it as a sort of slow-grow thing, where I would build a unit, and paint it, then move on. So often in the past, I've fallen into the trap of building up a whole truck load of models, and then found myself almost overwhelmed and just shelving everything. Not wanting to fall into that trap again, I've therefore decided to pace myself, and go at things on a much smaller scale.
Last winter, I built up the contents of a Strike Force box, as well as adding two HQ units to the mix: a Grand Master built from the Paladins kit, and a Brotherhood Champion built from bits. It's only a patrol detachment currently, and weighs in around the 450 points mark (pre Chapter Approved 2019, of course!) so I will need to get my act together here if I want to get in some games with it!
I've bought the almost-obsolete Doomglaive Dreadnought, an awesome model from Forge World that is now, inexplicably, discontinued. However, since I had built it up at the weekend, I think it has come to pass that I've been sold a recast, with some fairly toxic smells coming from it when I was cleaning it up! I've decided to plough on regardless, but the more I think about it, the more I'm probably going to go for the regular Venerable Dreadnought in my list, as time goes on.
Anyway, enough of that, where do I stand with the army right now?
So far, though, this is the entirety of what I have built. Yes, I know, I've built a lot more without getting it all painted, but that's just a fact of life where my hobby is concerned! I've got a game planned in for Monday, my first since becoming a daddy, so we've agreed to have a small 1000-point battle. My buddy JP has got more daemons for his Heretic Astartes list, so I think it might be an ideal opportunity to bring out the Grey Knights and see what I've been missing for the last twelve months!
In order to bring the total up nearer 1000, I'm hoping to get a Purgation Squad built, with three psycannons for some heavier support, but I don't know whether that will be a thing, so I'm erring on the side of caution for the time being and not including them in the list.
Grey Knights, perhaps more than any other army that I've played so far, appear to rely a lot on overlapping buffs. There aren't many aura effects – the Grand Master allows for re-rolls and the Brother-Captain extends the Smite range, but that's about it. Instead, they seem to rely on psychic powers going off that will buff each other as they progress through the battle. Reading tactica generally confuses me, anyway, but I'd been so hung up on the idea of units needing to know a power to benefit from it, I'd not really thought about it in terms of one unit using the power on another unit. So, for instance, it doesn't matter if I give Hammerhand to the Strike Squad, when the Paladin Squad might be the best target for it – the Strike Squad can simply target the Paladins when they use it. Thus, the mental image of some crazy psychic shenanigans has been born, with eight psychic powers going off per turn!
It should be glorious!
It is important to me, however, that I don't go too crazy with this army when I get going with it. I want to try, as much as possible, to stay true to the initial plan of painting up the units that I build as I go, and not end up in the situation where I'm looking at a whole desk full of unpainted models! The game on Monday will certainly be using grey plastic (but they are Grey Knights…chortle…) and, while I do hope to build up that Purgation squad, that will then be the limit, and I'll set to work on painting what I have. The Purifiers are so close to being finished, it's almost tangible, so I have no excuse to still be in this position in another twelve months' time!
Looking ahead, I think Grey Knights could be a really fun project to use alongside the Sisters of Battle, as they're both chambers militant of the Inquisition that work very well together: Sisters pursuing the Heretic, and Grey Knights pursuing the Daemon. Heretic Astartes are known for summoning daemons, after all, so it's always a possibility that both elements will have stuff to do. Indeed, it could well be the sort of army that the old Imperial Agents codex inspired! Might even slip in an inquisitor!