Hey everybody!
Well, having spent most of the month of December looking through the Codex, and thinking of a couple of list ideas, I think I'm more or less settled on how I want to build up my Grey Knights for the first 1500 points. I must say, the new Chapter Approved has helped incredibly with this list, as I had originally written it up with the points from the Codex, and realised I'd have to get rid of something in order to fit in enough HQs to make the detachments I wanted. Now, however, I can not only build a battalion and a vanguard detachment, but I'm halfway to a spearhead detachment, as well!
Let's take a look…
The idea of the list is to have some massed firepower to help get most of the units into melee range. Pretty much everybody has some form of ranged weaponry, of course, but it feels like the Grey Knights want to be in close combat (albeit their attacks and weapons skill might not make you think that at first glance!) Everybody is a psyker, too – even the dreadnought – which is a whole new world for me as regards 40k. Playing Dark Eldar, Necrons and most recently, Tau, has not prepared me well for just what is involved in the psychic phase!
There are a couple of lynchpins for the army, though, and I think I'll go over these first. The Grand Master has the Rites of Battle ability, granting re-rolls of hit rolls of 1 for units within 6″ of him. The Paladin Ancient's banner will not only add 1 to the Leadership of units within 6″, but he will also give each model from those units an extra attack when they fight in the combat phase. So he's quite useful to have, though he does need to be shielded from being targeted himself, so I see him being behind the Paladins and at least one of the Strike Squads in the combat phase.
In terms of Psychic ability, every unit is a Psyker as mentioned, with a total output of thirteen psychic powers per turn (and thirteen deny tests). Grey Knights take their power from the Sanctic discipline, which are a good mix of directly offensive, combat buffs and protection for the army. Everybody also knows Smite, although it works a little differently for Grey Knights, thanks to the Rites of Banishment ability. It has a shorter range, and only deals out one mortal wound if successful, except when targeting a Daemon unit, in which case it deals a flat 3 mortal wounds. At first glance, it feels a bit like Grey Knights are hard done by with this, but then you have to remember that it is a question of balance. Whereas most armies will have maybe a couple of Psykers, every single one of my models in this army is a Psyker, so you can't have them all dishing out normal Smite and think the game could still be balanced!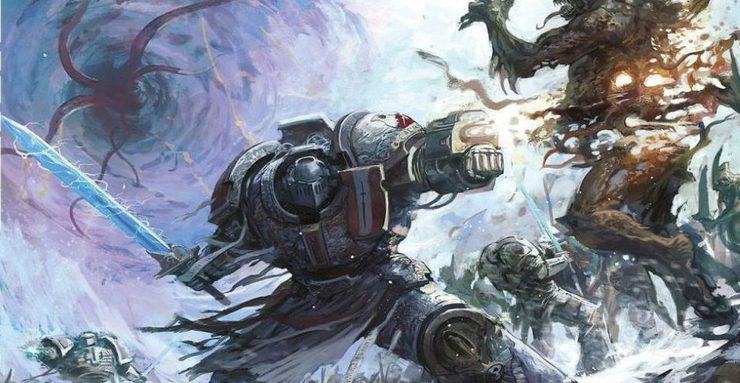 As it stands, I'm pretty happy with the army list that I've come up with. It's also going to be fairly straightforward to put together. I've already got two Strike Squad boxes, a Paladins box and the Brother-Captain model, so I'm almost halfway there already! I've ordered some bits online with which to make the Brotherhood Champion, and the Paladins box will make both the Squad themselves and the Ancient and Grand Master – there's a fantastically-posed Paladin Paragon in the Codex that looks so wonderfully ornate and fancy that I think he'll make a great figurehead for the army!
That only leaves a third Strike Squad box and a Venerable Dreadnought to get, so it should be an easy enough task! The models are so beautiful though, I can see me taking about six months or longer to actually get anywhere with them! Especially that banner on the Ancient – it looks awesome, I really hope I can get somewhere close to that!
However, I'm already thinking about how I can build this up to 2000 points, at which point I think I might be finished with the force. While I am a bit hesitant about the infamous baby-carrier, I think it might be nice to get the Nemesis Dreadknight in there, simply because it's still such an iconic model for the army despite the fact it looks kinda silly. I'd also like either more Paladins or else regular Terminators, as I think they also look fancy as all hell, and it would be great to get some more in there. Transports are an issue for me, as I think the amount of close combat stuff I have going on in here means I do kinda need them, but I don't really know how! I was initially thinking Land Raiders, but they're so expensive I'm veering more towards Razorbacks for now. But that's a problem for another day. I definitely want to have another Strike Squad, mainly because of the fact I'd like to have one of every unit, so think I'd like to get some Interceptors, and then maybe just five more regular Strike Squad guys, who can be used if I ever want to swap-out the heavy weapons for a cheaper squad.
I'm really excited to get moving with my Grey Knights, as I think it's a unified army that looks pretty awesome when you see them en masse. The heraldry, and the whole lore of the daemon-hunters with their words of power and warding implements really appeals to me somehow. I'd imagine that playing these guys on the tabletop would be nicely thematic, although I have heard that going up against daemons isn't exactly a picnic for them. Even so, I'm quite excited all the same!
Part of me has been thinking about doing a Kill Team for these guys while I'm building up the full force, though I'd also like to just get moving with the things that I actually want to paint, which may not have a place in KT. For the time being, though, I've still got the five Purifiers on the go, and I'm joining in with Azazel's January Painting Challenge with the Grand Master himself! So stay tuned for updates there!!