Hey everybody!
I recently delved into the first two parts of the War-Zone Vigilus storyline (in a blog you can read here), where the Ultramarines have a prominent part in defending the world against an Eldar retaliatory stroke, and it got me thinking about the amount of hate levelled at the chapter by, what feels like, the entire 40k fanbase. So I thought I'd see if I could disentangle the grief surrounding them, and see if they have anything going for them!
The boys in blue can be found on the front of every box of generic Space Marines kits sold by Games Workshop, and have been there since the dawn of time, really. I suppose this is the first point, then, on our graph of hatred – being the poster boys of the Space Marines product line. Making a few assumptions here, Space Marines are perhaps the "most generic" of the 40k armies, and a lot of people come to them to start. If people are starting out in the hobby with Space Marines, they may well be painting them up to match the box art, creating a vast amount of Space Marines who are blue and Ultramarines.
I've certainly come across this myself with some things, where people always try to dissuade me from following the GW-standard scheme for something. "Paint them a different colour!" is a comment I've had for a few things now, but what's wrong with following along with the box art? Many people, myself included, are attracted to a model or a model range because of something we have seen, and want to re-create. Whether it's Bloodletters or Ultramarines, if you want to re-create a model that has inspired you, you should just go for it! There's nothing wrong with painting a miniature to match those on the box front.
As it happens, I haven't really seen a great deal of Ultramarines armies on the whole, though there is a guy at my local GW with a really awesome collection painted really well. I'm very much a fan of seeing the army, and I can't honestly say that anybody in the local community has said anything negative about them being "Ultrasmurfs" or the like. There's an appreciation for a nicely-painted force, and that's that!
The Primarch of the Ultramarines is, of course, Roboute Guilliman, a renowned tactical genius among the Primarchs of the original Space Marine Legions. There is a fascinating scene in Dan Abnett's Know No Fear that shows Guilliman absorbing dozens of battle reports at the same time, then making up a plan to deal with it all within moments, while all those around him look on dumbfounded. All of the Primarchs had different strengths, and that was his. While it is true that there feels like an element of the deus ex machina about his appearance in the current 8th edition storyline, I don't think people are really understanding the existing lore behind it. Bobby G is showing up at the exact right time most often because he has been able to plan for that eventuality.
Guilliman is the Man with a Plan, and a Backup Plan, and a Backup Plan for the Backup Plan. And probably a couple more Backups, just in case. And he came up with all of them at the same time.
A lot of criticism of the Ultramarines is that they're boring, and I think some of that might stem from the fact that they have a very straightforward, efficient way of waging war. They don't have the unnecessary bloodthirst of the Space Wolves, or the flair and bravado of the White Scars, but they just get in there and get the job done. And then re-establish the community behind them. I find this in particular to be a fascinating aspect of the lore of the Ultramarines, and I really appreciate how it has led, in more recent years, to GW giving us Ultramarines upgrades to give them more of a Roman feel – Rome, the ultimate empire builders.
The crested helms and leather pteruges are always a nice touch on models, and really help to form a certain aesthetic that, of course, can be used for any other Chapter of marines, but is quite iconic on several models when used specifically for the Ultramarines.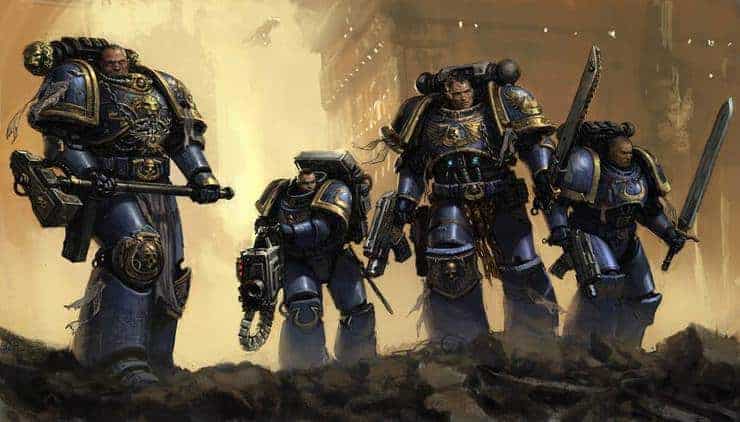 Still talking lore, it seems a lot of people don't like their insistence on the whole codex-adherence thing. Guilliman wrote the Codex Astartes, of course, and insisted on splitting up the Legions following the Horus Heresy. Furthermore, Guilliman ruled as Regent of Terra in the centuries following, until his run-in with Fulgrim saw him interred in the Temple of Correction for centuries more. It's not difficult to lay the accusation of arrogance at the door of the Ultramarines because of this, of course, though of course it can just as easily be explained by the fact they are consummate empire-builders, and these actions are in keeping with the statesmen aspect of the lore.
I think it's an interesting aspect of the Ultramarines history, that they go from being fairly well thought of and interesting fighters during the Heresy era, to being much more set-in-their-ways and boring during the 40k timeline. Perhaps it's a reflection of the wider Imperium, which has also ground to a halt at this time, and is a far cry from the Imperium of the Great Crusade. We can see the uncompromising nature of the Ultramarines chapter in Graham McNeill's novels, particularly Dead Sky, Black Sun, whereby the valiant captain of the fourth company, Uriel Ventris, is dismissed from the chapter because he disobeyed the teachings of the Codex. Anyone who has read Graham McNeill's books can't think that the Ultramarines are dull and boring, surely?!
So people think they're boring and they're everywhere, and their Primarch is the most dull out of them all. They're the poster-boys for the Space Marines, and as a result they're just generic and boring.
Is that it?
Of course, we can't talk about the Ultramarines without talking about the impact of Matt Ward and 5th edition. Codex: Ultramarines showed the army as being held up as an example to all others, with other chapters secretly wishing they could be Ultramarines. People like to hate Matt Ward generally, but for his work with the Ultramarines, there seems to be a very specific kind of hate directed towards him – and that has lasted all the way down the years (5th edition was 2008).
Alongside this, I feel like there's something of a badge of honour for players who like to complain about the army. As if, by some kind of borrowed hate from this period, they can show they're real fans or something. I wasn't around for 5th edition, as I came to the tabletop game itself not long after 7th edition had landed. A lot of this kinda passed me by, and my first contact with the Ultramarines was quite a positive one, looking through the pages of the Sons of Ultramar painting guide and being impressed by the massed ranks of Space Marines painted so well.
To me, there's nothing to hate about them – they're prevalent, for sure, but they're such a classic element of the 40k universe that it seems disappointing that people want to just hate on them because that's what everybody else did ten years ago.
I think the fact that they're seen as poster-boys for GW is a very weak argument to hate on them. GW needs a strong brand, and so they have chosen the Space Marines to be the seminal focus for that brand in what is – especially now – a very crowded marketplace. If they used a different chapter for each unit they sold, Space Marines as a brand would be somewhat diluted. If you bought Tactical Marines that were Ultramarines, but Bikers that were White Scars, Vanguard Veterans that were Raven Guard and Devastators that were Imperial Fists, it might feel like you had four different armies there. All of the Dark Eldar kits have Kabal of the Black Heart on their box fronts, Tau kits are now all Vior'la Sept, etc.
It's a slightly different situation, of course, because 8th edition is the first time we've seen sub-faction rules for each army, but I can't imagine people hate Kabal of the Black Heart because they're the poster boys for the Dark Eldar. (It's more likely to be due to Agents of Vect, after all).
The biggest issue, then, seems to be with the lore, and the fact that Ultramarines have been built up over the years to be The Best. People do like their fluff – hell, I love the fluff! – and being told ten years ago that the official lore standpoint was that Ultramarines are the best Space Marines doubtless did rankle. But GW have taken steps to improve their image in more recent years, and I can't see why anybody would nowadays hate the Ultramarines for their rules.
Personally, I like the colour scheme, and I like the little call backs to Ancient Rome that the army has. I love the idea of them being professional soldiers, with the skills and drive to create something out of the warzones they fight in. People like to complain about the fact they're the "good guys" of the setting, but really I think they're just trying to do the right thing as they see it, establishing a strong foundation for the future of humanity. I feel like there is something noble about the Ultramarines, though the system they work within is of course deeply flawed. I don't really see any reason why people should still hate on the army after all this time.
I don't really have a Space Marines army right now, but I've been trying to build something for a long time now along the lines of the Novamarines, one of the initial successor chapters to the Ultramarines, but since the advent of 8th edition I've been thinking more about a mix of different Ultramarines successors. Now that Marneus Calgar has been reimagined in glorious Primaris form, I'm planning to incorporate the primogenitors themselves in a small detachment. But that's probably a ways off yet…