Hey everybody!
It's the first Sunday of my hobby update progress blog series thing, where I get to show you all what I've been up to this week, and how it will help me to get to my December Goals! It's been a bit of a quiet week in some respects, but even so, grab a cuppa and come see what I've been doing!
So we're going to start with last weekend, and I've still been building up a lot of stuff, including an Akhellian Allopex, mainly because it's such a hilarious kit:
I mean, it's two guys riding a shark!!
I've been wanting to build up a small raiding party of Idoneth Deepkin for a while now, and last month finally decided to go for it. I've got the battleforce box for my birthday, so there will be some significant support on its way soon, but I also have some more Thralls and stuff hanging about as well, so I think I'll only be getting a couple more bits and pieces to add to this army before I think of it as complete!
I've been busy trying to cover up the Annihilation Barge, which had been primed with Caliban Green, to match my current Thokt Dynasty colour scheme of greys and blues. It's not been going too badly, the twin tesla destructor is looking a lot nicer already, and the main barge chassis has been finished, so it's just going to be a case of finishing the underslung tesla cannon, then sorting out the crew, and this model should be done! I say that with such optimism…
The Chaos Cultists have taken up most of my time so far this week, however, as I try to get some base colours down on them, and sort out the skin tones. I don't want to go for models that look too pale, as I would prefer my cultists to look quite normal, albeit a little scarred and stuff. I mean, they are quite clearly hitting the gym more than is necessary, so they're presumably quite hale on the whole!
I definitely want to go for an eclectic look to the clothing for these guys though – a lot of people seem to want to paint them all the same colour, which is fine when you're thinking about an army, but these guys aren't really in uniform, but instead look like they've just been throwing on a cloak to go out and purge in the name of Chaos. They're fairly ordinary chaps, so I want to try and get that feel of them being normal folk who have just turned to Chaos out of desperation or whatever. I think they should look fairly decent when they're done, anyway!
I've built up the next batch of Necron Immortals, so I can start painting them soon as well, but another big focus for me has been the Grey Knights project that I mentioned the other day. I'm building them as Purifiers, because I quite like the lore of them being a secretive sect within the Grey Knights, and being so incorruptible and all the rest of it. I'm currently planning to build five, so the other five of the Strike Squad box will be exactly that, a Strike Squad. I have no idea where to take this army just yet, but my eventual plans for it involve something like adding in Deathwatch, Ministorum and maybe Inquisition, to go for a proper Imperial Agents thing. We shall see, though, as I'm still hoping for some awesome Inquisition models to come for Kill Team in 2019! Possibly a pipe-dream, though I've talked before how I think GW would be crazy not to tap into that!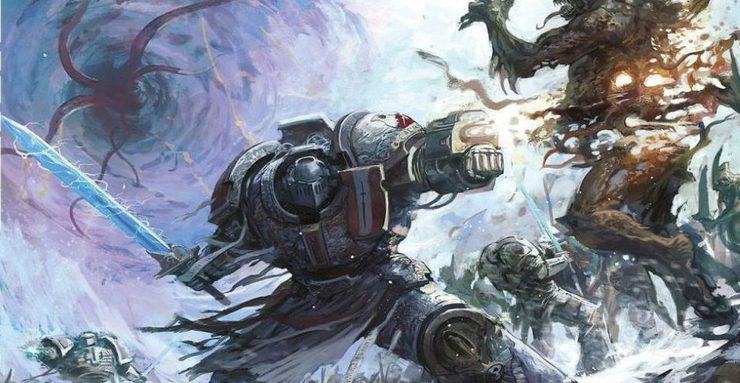 So, not a great deal of painting has happened so far this week, but I blame that on the fact that we (a) put the Christmas decorations up, which took quite a bit of time, and (b) we're looking after the brother-in-law's cat while they move house, so hobby time needs to be planned around a small furry entity wandering through. She's mainly transfixed by the leaves out in the back garden though, so it's not too bad so far.
I'm getting very easily distracted so far, though, and since looking at the Grey Knights last week, I've been thinking as well about getting some Chaos Daemons to play against them – quite where I'm going with that, I have no idea, but I've drawn up a list of Bloodletters with some additional support units that should be fun to paint, if nothing else! I've got some floating about somewhere, I'm sure, anyway…
In the past, I've tried to keep my army focus on just a couple of projects, to stop being so distracted with loads of ancillary stuff. However, I do find that having additional stuff that is either not related at all, or else bears a small resemblance to what I'm doing, helps to keep me refreshed in the hobby. It's no good thinking I need to sit down and paint 40 Immortals before I can do anything else, as I'd just get bored and pack everything away. At least if I can have that palette cleanse of something different, it should help to keep me going overall.
To this end, I've been thinking a lot about my various projects in broad terms of their colour. So Grey Knights and Necrons (and to some extent, the Skitarii) are quite similar with silvers and blues, but then something like the  red of the Bloodletters should help to mix up the focus quite a bit. I've also got the Chaos Cultists who should be enough of a disparate bunch that it will help to break things up. I think this is why I was thinking so much about doing stuff with the Deathwing project, as the cream and green is again something completely different to help distract me and keep things fresh.
While we're on the subject of the Deathwing, I have bought a couple more things lately to keep me suitably distracted, but still related along the same lines there – Ravenwing! I do enjoy picking up the odd kit like this, and Ravenwing are an element that I hadn't really considered before, but I think they do look exceptionally cool, so I'm excited to have these join the ranks. While everything Space Marine related seems to be quite expensive at the minute, I'm hoping that next weekend's Chapter Approved will deliver on the promises of sweeping points reductions, and Deathwing/Ravenwing will be a decent combination to have in the army!
I've been through a bit of a walk down memory lane since I started looking at the Deathwing stuff once more, and I've really re-evaluated my appreciation for the Dark Vengeance box from 7th edition. Not only does it have those wonderful Cultists, but there are so many good-looking, unique models in there that you just can't get anymore, I'm really glad to have these in my collection now, at any rate. Looking forward to adding more to the Dark Angels army in due course, but that will definitely be a project for 2019…
In other exciting news, I went to Warhammer World again this weekend, for the now-traditional pre-Christmas pilgrimage! I couldn't really spend a great deal though, so confined myself to picking up the new Delaque models, as well as Inquisitor Coteaz, a model that I've been wanting to pick up for a long time simply to paint. Now that I've been looking into the Inquisition more, and have some vague plans for the Imperial Agents army, I've finally got a reason to pick him up!
The Delaque models are quite wonderful, anyway. I've got three built up so far, but they are a wonderful addition and I'm looking forward to getting those sorted for games in the new year! I think I'm going to do a sort of Necromunda retrospective soon, looking at all of the models released across the last twelve months, and hopefully showcase some of my own painted creations! That'll give me the excuse to actually get painting them, anyway!
In other news, I started reading Crossfire, the first book in the Shira Calpurnia omnibus, Enforcer, and so far it's really good! I think I'm four chapters in right now, and I'm enjoying it a lot! It's always fun to read about the more mundane, human side of the 40k universe, and I think a lot of my attention has currently been thrown that way lately as far as hobby projects go. The novel's central protagonist is one of the Adeptus Arbites, the law enforcers of the 40k universe, and the story seems to be following her search for a would-be assassin on the planet of Hydraphur, set against the background of preparations for a religious festival. So not only do we get the Arbites, we also get the priests and officials of the Adeptus Ministorum, and even some Mechanicus in there, too! Like I say, I'm not far into it, around about a third or so, but it's been really good – and a nice change of pace from all the Iron Warriors who have been cropping up in the books I've been reading of late!
I'm reading this as part of a buddy read with fellow blogger wordaholicsanonymous – check out some of his fine work here, and just wait for the reviews!