Hey everybody,
My recent return to the light of the Emperor with the Deathwing army that I currently have on the go has got me thinking more about the Imperium as a whole, and looking at the other armies on offer to us outside of the Dark Angels. From Deathwing, I started looking at the Deathwatch army that I had started to paint up over the summer of 2016, and there will be a blog coming shortly with some of my thoughts on those chaps, don't you worry!
But I've also started to think a lot about the smaller-scale stuff, and in particular, the Inquisition. This is a range that is quite woefully under-represented in 40k miniatures terms, which is odd considering the success of Dan Abnett's Eisenhorn and Ravenor novel series. Most of the Inquisition line is made up of old finecast miniatures, with only the new finecast Eisenhorn mini and the plastic Greyfax that show any real attention for it over the past few years.
It got me thinking about what GW have been up to, what they are up to, and what I think I'd like to see them be up to, based on the first two.
First of all, though, let's talk about some history
The Inquisition dates right back to the original Rogue Trader years, where they would combat the myriad threats to the Imperium, most often rogue psykers (more on this in a bit). Further lore expanded on this, introducing secretive sub-factions, and produced the little nugget of information that one of their secret tasks is to discover the sensei. For those who aren't familiar, the sensei are the offspring of the Emperor of Mankind, who possess the ability to hide from the warp and are something of a perfect weapon to use against Chaos. While I don't know whether the current GW will want to pursue this storyline, I think it has some potential to advance the story of 40k, which does seem to be a current objective for the company, so whether we will see them reimagined for this, I don't know.
The popularity of the Inquisition has always seemingly stemmed from the specialist game Inquisitor, released in 2001 as a skirmish game roughly double the scale of "normal" 40k. It was this game that spawned Dan Abnett's Eisenhorn trilogy, of course, and alongside several of Fantasy Flight's RPGs, the popularity of the faction has bubbled along away from the wargame. In terms of the regular tabletop 40k, the expansion of the Grey Knights in 2011 to have their own Codex seemingly overshadowed the rest of the Inquisition, though it does seem that 2016's Deathwatch Codex may have helped to balance that somewhat.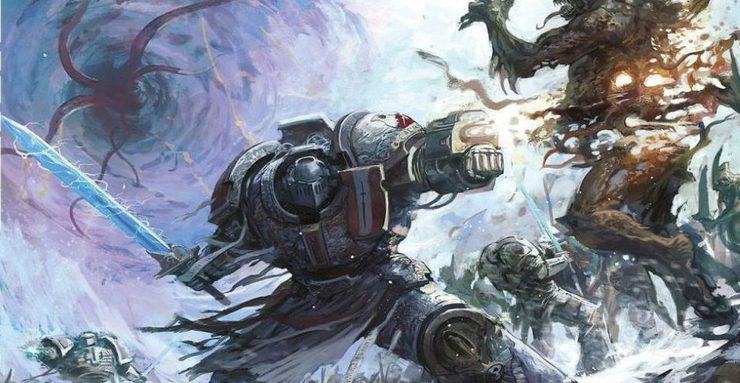 Power Armour connections
The Inquisition is made up of three major Orders: the Ordo Malleus (which deals with daemons), the Ordo Xenos (which deals with aliens) and the Ordo Hereticus (which deals with cultists). Each of these three has its own Chamber Militant: the Grey Knights, the Deathwatch, and the Adepta Sororitas, respectively. Now then, the Grey Knights have a decent plastic range of models, and the Deathwatch saw a new release of miniatures back in 2016. As has been well-documented by now, we're expecting the plastic Sororitas range to arrive in 2019, with the current rumours pointing to sometime around October. With each of the Chambers Militant getting plastic releases, it's gotten me thinking about when we'd be likely to see the Inquisition released in plastic sculpts to go alongside them.
Deathwatch have been something of a surprise, to my mind, as far as the new releases go. We saw a glorious release back in 2016, starting with the boxed game Deathwatch: Overkill, and it just went from there in terms of the amazing things we've been seeing. Genestealer Cults are such a fantastic example of this, and now again with the Rogue Trader releases, that it makes me thing GW is, to some extent, committed to bringing out some of the more weird and wonderful aspects of the 40k universe, not necessarily always via the mainstream tabletop game.
Within the space of months, we've seen two flamboyant Rogue Traders come out, surely it will only be a matter of time before we get the equally flamboyant Inquisitors in plastic?!
The Kill Team factor
Kill Team has already brought out so many fascinating sculpts with the Rogue Trader box back in September, and it doesn't take a genius to see the possibility for a Kill Team: Inquisitor box to be quite the thematic expansion to that line. The fact that we have now got a plastic Death Cult Assassin in the Elucidian Starstriders makes me wonder if this is showing the possibility of further miniatures down the line. I know we're wishlisting here once again, and most likely reading far too much into this, but I do like the idea that GW are perhaps testing the waters with these boxed games before going more down certain routes and creating miniatures on the back of those found in their specialist / board games.
It's not just limited to the Kill Team game, though. Blackstone Fortress is set to be a major source of new, previously-unseen miniatures that might not be expected to have a full-army release. The fact that the Inquisition has been said to predominantly tackle rogue psykers in the past (Eisenhorn does it quite often, as we know), and there are rogue psyker models in the core set, makes me fanboy-dream that we might see a new "team" of heroes to choose from – the Inquisitor team. It would be so straightforward to give us a new plastic Inquisitor model, with some warrior acolytes and crusaders, maybe some sort of arco-flagellant or death-cult assassin, and a preacher of a lesser rank than Thaddeus from the core set. Throw in an Interrogator or Null Maiden as secondary leader-types (yes, I just want Ravenor and Bequin!) Heck, I'm sure people would like to play the Jokaero if they could, as well! It would be straightforward as anything to reinvent the current finecast/pewter range as a plastic warband here.
But I fully admit to leaping to this conclusion due to the tenuous link with rogue psykers, don't you worry!
What does it all mean?
I don't claim to have any kind of special insight into the future for GW. I'm just a nerd with a laptop typing all this junk up as I think of it. But given the popularity of the Inquisitors as a faction, it seems just wrong that they have one plastic mini, one (hard-to-find) resin mini, and the rest of the army is dated as all hell. Most of the line is made up of finecast versions of the old metal miniatures from back in the 90s, which admittedly is something of an improvement on the current Sisters line, which is all metal (but we know they're changing that).
As it stands, we're seeing a very slow drip-release of new miniatures that could potentially be used in an Inquisitorial retinue. Knosso Prond from the Elucidian Starstriders is a great example of this. Thaddeus the Purifier and Pious Vorne from Blackstone Fortress are also fantastic for making Preachers. Due to their heavy Redemptionist aesthetic, the new House Cawdor gangers could make excellent Warrior Acolytes. Without trying to read too much into these things, I do think it's only a matter of time before we see the Inquisition brought back to life as a modern force on the tabletop.
Sisters?
Again, without trying to read too much into anything, I've been flicking through the old Codex: Imperial Agents from seventh edition, and I find it interesting that a Sisters army back then wasn't all-female. Ministorum Priests, Arco-Flagellants, Crusaders and Assassins all featured in the army list, which gives it a strong crossover to the Inquisition army list in the same book. Could we be seeing new models for these coming as part of the plastic Sisters army next year?
Army releases for Games Workshop nowadays tend to be smaller affairs, with less of the more obscure elements like this. Since the announcement of plastic Sisters, I've been expecting a character or two, maybe two troops choices (multi-part kits?) and an elites choice. With maybe a heavy support/vehicle option. I'd not been expecting any of the, for want of a better term, "hangers-on" like the Priests. However, GW do seem to be treating this army project very much as an Event, and so it would perhaps be in keeping with that for them to go ahead and basically re-imagine the entire list, maybe even go crazy and give us entirely new units if they're going to advance the fluff as well, and so in time we'll be getting a whole host of new plastic goodness. The rumoured release of October 2019 does also make me think that maybe, by then, they will have released a lot of the Blackstone Fortress stuff separately, so could potentially be tying-in with that. I wouldn't have thought they'd attempt to cash-in with Sisters and give the option for a Priest that basically means players need to buy a Blackstone Fortress set for £95, but maybe we'll be seeing multi-part plastic clampack releases for the heroes by then?
On a side note, given the strong ties to both Grey Knights and Deathwatch, I've also been wondering if there will be rules to include special detachments of those forces, which won't break your Battleforged army. Only time will tell!
It's definitely an exciting prospect, and one that I hadn't really given much thought to until now!
But what about Kill Team?
Ah yes, Kill Team. It feels a little like Kill Team is being dampened-down of late, with all the hype for Blackstone Fortress coming out this week and all. We've got two new Commanders being released, but there aren't any tremendous rumours on the horizon for more expansions, or even to finish off the Kill Team faction boxes as they have been doing. (Probably because they've run out of terrain to include within those boxes?)
However, the rumour of Kill Team: Inquisition is still floating around, with nobody confirming or denying this, but also no further information beyond the idea that it will be a thing. I do think that Rogue Trader and, by necessity, Commanders were both rushed out somewhat due to the leaks that predated the core set for Kill Team itself, so perhaps we shouldn't read too much into this gap. I do hope that we'll see an Inquisitor expansion, and that we'll see it in the first quarter of 2019.
If we do get such a box, then, I'm really hoping for a similar look to the Rogue Trader line-up, with the Inquisitor and his retinue forming maybe a dozen models, facing off against perhaps 20 Cultists. While this would be a perfect opportunity to bring back those push-fit Cultist models from Dark Vengeance, I think that rant is for another blog. At any rate, we've had Chaos mutants in the Rogue Trader box – an Inquisitor expansion would be better served with some Cultists (I'd also like some form of xenos race, preferably a new race that we haven't seen yet, but that would likely take too much time). Indeed, the crossover between Rogue Trader and Blackstone Fortress was enough that I think it could be a nice touch to continue the Traitor Guard aesthetic and provide more of that, with a varied band of generic Cultists, peppered in with a Rogue Psyker or two – it would be on-theme, after all!
I am in danger of running away with myself on this (well, I've been running away with ideas for this entire blog!) But I do feel like there is the potential here for significant crossovers with actual Kill Team expansions like Rogue Trader and the Blackstone Fortress stuff. It would probably be too much to hope for some kind of expansion for the Starstriders and Gellerpox mutants in Blackstone Fortress, but I suppose you can never say what GW are going to do these days, as they have been coming up with some phenomenal releases of late, and I don't think a lot of us could have predicted any of them, if we're being honest. Who would have thought plastic Rogue Traders would ever see the light of the tabletop? At least we're getting Kill Team profiles for the Blackstone Fortress minis, so we can (presumably) field a Kill Team of Traitor Guard and Rogue Psykers – which is quite an exciting prospect, given my desire to make a 40k army out of these guys!
But so much of this blog has been me just wishlisting and fanboy-dreaming, I'm not entirely sure if any of it has been worthwhile reading! If you've made it through this far, thank you! There's not a lot to take away from this, really, beyond the fact that I absolutely love the weird and esoteric corners of the 40k universe, and the arrival of first Kill Team: Rogue Trader, and now Blackstone Fortress has got my imagination doing so many somersaults and backflips with the amazing potential such boxed games hold for the expansion of the universe in plastic!
I've been enjoying thinking about the possibilities for these things, though, and I really hope at least one or two of my ramblings might come true in the fullness of time!