It's time to look at some new stuff!
I've not really had much time lately to be checking out the new offerings in the board game world, having been trying to find a house. Having now bought a house, I've probably not got the money to go investigating some of these new offerings as much as I'd like, either! But I thought I'd just take a brief look at some of the things that are being advertised and see what's going on.
First up, there's a new expansion for Ascension out, Gift of the Elements. Featuring all manner of weird and wonderful new (and returning) mechanics, it looks like this one changes up the game in a few interesting ways. Back when I wrote up my game day blog on this game, I mentioned that I played this one primarily on the app; currently a lot of the new expansions haven't been made available for Android, but hopefully this will change soon enough!
Blimey, Carcassonne is really branching out now! It's been ages since I last had a game with the classic tile-laying game, and it seems like all manner of things have been happening since then! Under the Big Top seems like it could be one of those fun expansions that infuriates the hard-liners, those who used to denigrate things like the Catapult and Wheel of Fortune. Personally, I think people should be allowed to have their own fun, and nobody is going to force you to play with this, though I won't be rushing to add it to my collection. I think, for me, Carcassonne has become something of a nostalgia game, where I'm happy to remain at the point where I last enjoyed playing it, when Abbey & Mayor was a new thing.
This new Genesys RPG system is being pushed kinda hard by Fantasy Flight, don't you think? It certainly seems like an interesting idea, though I'm getting tired of seeing it popping up on social media as a sponsored ad every so often!
Coming out towards the end of the year, the core rulebook features essentially a blank canvas for you to paint your games on. It's built around the narrative dice system that is used by RPGs like Warhammer Fantasy and Star Wars, where you roll dice that don't just tell you if you pass or fail a check, but rather how well you pass/badly you fail, and if there are complications. It's a really great system, as it happens, so porting that over to a more de-restricted game like this is a great idea. The book comes with frameworks for five different setting types, from sci-fi to steampunk, so sounds like it could be a great way to start something new!
While we're on the subject of RPGs, though…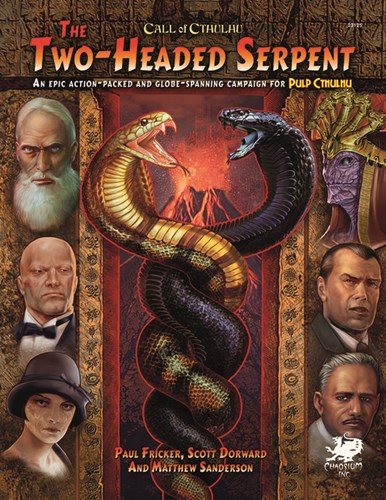 The Call of Cthulhu RPG is something that I've quite liked the idea of getting into for a while now, but have never quite managed to pull the trigger. However, seeing this pop up as a new release has got me wanting to investigate more of what it has to offer! I enjoy a wide variety of Cthulhu games, primarily from Fantasy Flight, and this Two-Headed Serpent adventure sounds like a lot of fun akin to the globe-trotting Eldritch Horror! Though, I must admit, my first thoughts on seeing the artwork on the cover were of Fortune & Glory.
I don't have a playgroup that could support RPGs anymore, though, so it's probably something that will languish. I'm a bit gutted that I missed Free RPG Day a couple of weeks ago, as I could perhaps have sampled the waters at my local store! Ah well!